Brand Guidelines: Danica Heirloom
A deep passion for craftsmanship, handmade goods, ethical production, and uncompromising quality compelled us to create Danica Heirloom. We take inspiration from the quality of cherished items that last generations, and from our intertwined global community of artists who make, create, and share the products that bring us together. Created with earth tones, jewel palettes, and a love of travel, Heirloom encompasses a spirit of global citizenship and well-traveled design. Travel the globe and redefine home decor with Danica Heirloom.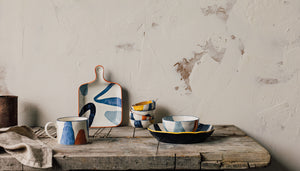 Brand Statement
A collection of eclectic patterns, must-feel textures and inviting palettes
Brand Statement
A collection of eclectic patterns, must-feel textures and inviting palettes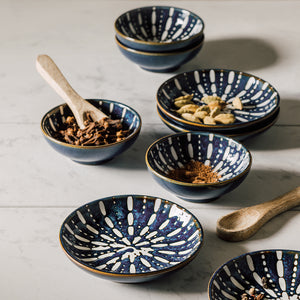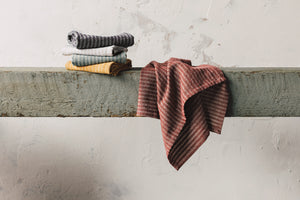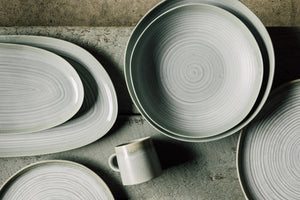 The Look

Textural
Handmade
Rustic
Modern
Natural
Earthy
Eclectic
Organic

The Products

Tabletop
Serveware
Kitchen Accessories
Kitchen Linens
Table Linens
Rugs

The Customer

Gift
Lifestyle
Home Furnishings

The Voice

Classic
Detail-oriented
Beautiful
Storytelling
Vibrant
Lyrical
Porto Stamped Plates Set of 4

Maison Espresso Cups Set of 4

Canvas Stamped Tapas Plate

Pulse Pinch Bowls and Dipping Dishes Set of 4

Midnight Stripe Linen and Cotton Dishtowel
Danica Heirloom
Brand Guidelines
Logo

Minimum application size: 0.5" wide

Logo Flag

Minimum application size: 1" wide

Accent Colors

Shadow: Hex #676B6A
Jade: Hex #4C8676
Clay: Hex #9E483F
Lagoon: Hex #5F8289
Use your Danica Resources credentials to access further branding resources.
Photography Styling Guide
Photo Styling

Look & Feel

Modern
Minimal
Simple, Rustic
Moody
Wabi Sabi

Photo Styling

Backdrops

Fresco
Concrete
Brick walls
Marble
Rustic wood surfaces.

Photo Styling

Layouts

Clean, simple, focused
Monochromatic
Moody lighting
Beams of light
Stacks and multiples.
Mix of product shots and in situ.

Photo Styling

Props

Sparse!
Fruits & veggies
Dried flowers, twigs, berries
Cacti, succulents
Groomed plants
Photo Styling

Styling Effects

Simple draping and stacking shows off texture well and sets the mood
Use natural lighting to capture texture, wrinkles and imperfections
Plenty of compositional breathing
room lets the product shine

Photo Styling

Themes & Stories

Keep props to a minimal, favouring coordinating products as support instead
Store display set-ups are great
for some collections

Photo Styling

Scaling

Get up nice and close to show
motifs and techniques

Photo Styling

Settings

Embrace the eclectic nature of the brand with lively mixing and matching
Some categories are helped by
showing products in use
Farmhouse home settings work well
Danica Heirloom Models

Look & Feel

Diverse
Sophisticated
Inconspicuous

Danica Heirloom Models

Wardrobe

Linen, canvas and other natural materials.
Neutral and white tones.
Solid colors with some texture.
Avoid leather or jeans.

Danica Heirloom Models

Makeup & Hair

Light, soft and everyday
No strong colors or bold lips or nails
Avoid or hide tattoos.
Hair in loose, simple styles
and cuts

Danica Heirloom Models

Posing

Natural, un-posed
Off to the side, obscured or partly cropped out
No direct camera eye-contact – look at product, away or beyond
What Not To Do
Danica Heirloom Don'ts

Busy & Scattered scenes

Avoid scattered and 'spilled' props, keep layouts neat and sparse.

Danica Heirloom Don'ts

Bouquets & Flowers

Stay away from colorful bouquets, and leafy plants, favoring dried flowers, succulents and cacti.

Danica Heirloom Don'ts

Tattoos

Cover tattoos up or avoid putting them in the spotlight. Use natural material clothing instead.

Danica Heirloom Don'ts

Juvenile

Avoid super colorful or humorous themes. Don't prop with candy.
Additional Brand Assets
Danica Resources
Additional Brand Assets
Danica Resources