Brand Guidelines: Ecologie by Danica
Ecologie is the natural result of our deep passion for environmental sustainability and
creative design, bringing a little thoughtful beauty to your world. Authentically made
in Sweden, our sponge cloths are equal parts stylish and effective. Turn one-time use
paper towels and plastic into a thing of the past with Ecologie by Danica. Our beeswax wraps and
bags offer an array of colors and patterns for reusable storage. Explore our collection
and discover why sustainable living has never been so vibrant – or so fun!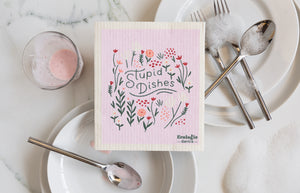 Brand Statement
Sustainable alternatives bring thoughtful beauty to the home
Brand Statement
Sustainable alternatives bring thoughtful beauty to the home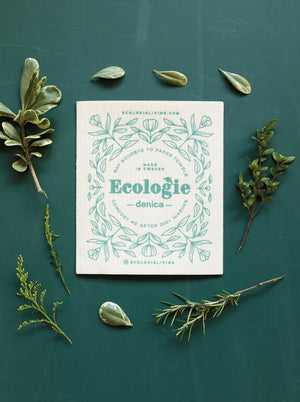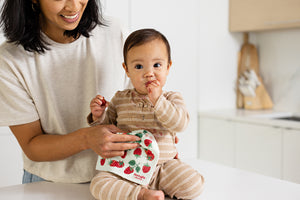 The Look

Bright
Colorful
Functional
Joyful
Culinary
Cheeky
Eco-friendly
Bold
Giftable
Trend forward

The Products

Swedish Sponge Cloths
Beeswax Wrap
Racks & Display Units

The Customer

Kitchen Stores
Gift
Supermarkets
Hardware

The Voice

Joyful
Friendly
Wordplay
Earth conscious
Informative
Still Life Swedish Sponge Cloth

Holiday Swedish Sponge Cloth Counter Display Unit

Damn Dusting Swedish Sponge Cloth

Go Fetch Swedish Sponge Towel

Flora Swedish Sponge Cloth
Ecologie by Danica
Brand Guidelines
Logo

Minimum application size: 0.5" wide

Logo Flag

Minimum application size: 1" wide

Brand Colors

Forest Green: Hex #3F6F60
Sunshine Yellow: Hex #FFD857
Grass Green: Hex #28AD73

Backdrop Colors

Backdrop Pink: Hex #FDDCE
Backdrop Blue: Hex #C9E9E6
Backdrop Green: Hex #CCE7D3
Additional Brand Resources
Danica Resources
Please log in to continue
Use your Danica Resources credentials to access further branding resources.
Photography Styling Guide
Photo Styling

Look & Feel

Photo Styling

Backdrops

Light and bright backgrounds
Marble, granite.
Light finished wood surfaces
Painted backdrops: Light tones of brand colors
Light pink for contrast

Photo Styling

Layouts

Natural, layered, relaxed.
Authentic kitchen scenes,
tablescapes, retail displays
and home settings

Photo Styling

Props

Veggies & fruits
Nuts & spices
Cooking & baking
ingredients
Snacks, sandwiches
Dishes, water & soap suds
Greenery and flowers
Photo Styling

Styling Effects

Show products in use to highlight functionality
Include at least one wet cloth to showcase the transformation the cloths go through
Scattered props and tipped over products add a natural feel
Hands are great to show scale and action

Photo Styling

Themes & Stories

Food props and kitchen scenes are essential to the brand
Dish washing and drying set-ups are a natural fit as well
Highlighting alternate uses can inspire a good story

Photo Styling

Scaling

Get up nice and close to show motifs and techniques

Photo Styling

Settings

Natural home and kitchen environments
Ecologie Models

Look & Feel

Diverse
Relatable
Classic
Wholesome

Ecologie Models

Wardrobe

Classic cuts, colors and patterns.
Neutral collared shirts.
T-shirts, cardigans. Jeans, chinos, loose fits.
Cotton, chambray, linen.
Plaids, gingham, solids, stripes.

Ecologie Models

Makeup & Hair

Lightly styled and made up.
Neat and tidy.
Subtly manicured nails in soft colors.
Everyday styled hair. Pony-tails, buns, simple up-dos.


Ecologie Models

Posing

In the moment, focused on a task or demonstrating.
Joyful, confident.
What Not To Do
Ecologie Don'ts

Vibrant backdrops

Stay away from bightly coloured, painted backdrops to differentiate from our other brands. Lighter, tinted solid colors are more natural. See Brand Colors. Classic home and kitchen surfaces are also key.

Ecologie Don'ts

Dark & Rustic Backdrops

Avoid dark, rustic wood and weathered surfaces to differentiate from our other brands. The Ecologie home is more modern with lighter woods and classic kitchen surfaces.
Additional Brand Assets
Danica Resources
Additional Brand Assets
Danica Resources