Brand Guide: Danica Studio
Danica Studio was founded in 2009 in Vancouver: a city where ocean, forest, and islands converge against a mountainous backdrop. This unique setting – along with a healthy dose of wanderlust and imagination – sparks daily inspiration for our design team. Together, they collaborate on patterns and images that refl ect a shared love of textiles, travel, and the beautiful city they call home. Their passion and creativity create the foundation from which our products come to life. We invite you to explore the bold, inviting, and ever-evolving world of Danica Studio.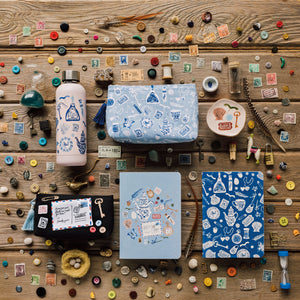 Brand Statement
A creative mix of bold, modern and inspired designs.
Brand Statement
A creative mix of bold, modern and inspired designs.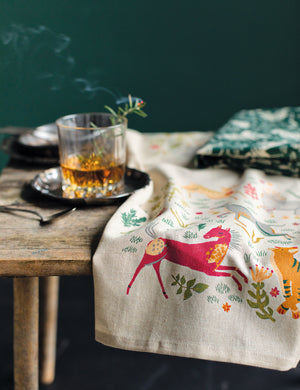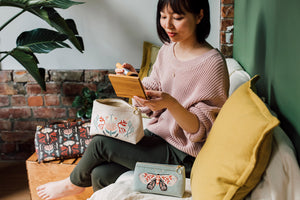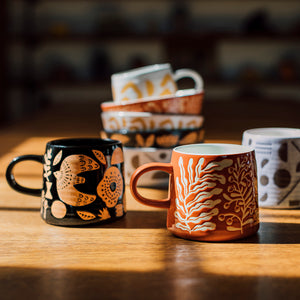 The Look

Contemporary
Fashionable
Relevant
Personal
Surface design
Pattern play
Trend forward
Unique
Giftable
Rich in detail
Unexpected twists

The Products

Kitchen Linens
Tabletop
On the Go
Gift

The Customer

Gift
Lifestyle
Home Furnishings

The Voice

Sophisticated
Straight-forward
Poetic
Amulet To and Fro Tote Bag

Olympus Engraved Coasters Set of 4

Myth Imprint Serving Bowl

Burrow Large Cosmetic Bag
Danica Studio
Brand Guidelines
Logo

Minimum application size: 0.5" wide

Logo Flag

Minimum application size: 1" wide

Accent Colors

Gray: Hex #c7c3b9
Green: Hex #004c45
Red: Hex #c76657
Pink: Hex #eeb7a8
Use your Danica Resources credentials to access further branding resources.
Photography Styling Guide
Photo Styling

Look & Feel

Story-driven
Moody with a quirky twist
Contemporary
Stylish

Photo Styling

Backdrops

Simple, minimal, retro.
Dark neutral or brand colour coordinated.
Weathered.

Photo Styling

Layouts

Simple with one product in focus.
Coordinating products on the sidelines
Props in the background or layered below.

Photo Styling

Props

Prop themes can be inspired by the product's color, motif or function.
Art materials & stationery
Craft supplies
Vintage accessories
Science & natural accents
Modern electronic components
Jewellery & makeup
Artistic food presentations
Photo Styling

Styling Effects

Feature one or a few products to keep images clean and impactful
Artistic, colour coordinated food presentations can tell an effective story
Modern, everyday accessories make the products relevant to everyday life

Photo Styling

Themes & Stories

Use simple props with character to tell a unique story
Vintage accessories and simple backdrops with some patina tell the brand story well
Stationery and scientific detail props work well
Collections and natural curiosites is a suitable styling theme
Makeup, jewellery and craft supplies are good prop options too

Photo Styling

Scaling

Go in close on smaller items, and include props that give a sense of scale
Show product sets in use together with appropriate props for scale reference

Photo Styling

Settings

Product focus with rich backdrops, neat effects & rustic details tell the story well
Fun, retro vibes and clothing works well for the brand
Danica Studio Models

Look & Feel

Danica Studio Models

Wardrobe

Simple cuts with unique details.
Neutral with pops of color.
Sweaters and blouses with special weaves, collars and necklines.
High-waisted or wide-leg pants.
Loose dresses.
Worn-in but not torn denim.
Huaraches, clogs, sandals.
Cotton, linen, chambray, denim.
Solids, stripes, polka dots.

Danica Studio Models

Makeup & Hair

Light, soft and everyday.
No strong colors or bold lips or nails.
Natural, everyday hair in classic cuts and simple styles.

Danica Studio Models

Posing

Natural, un-posed.
No direct camera eye-contact
Look at product, away or beyond.
Danica Studio
What Not To Do
Danica Studio Don'ts

Dramatic Lighting

Keep the lighting soft and natural to differentiate from our other brands. Avoid hard shadows and overlay effects.

Danica Studio Don'ts

Split Backdrops

Stay away from layered or split backdrops to differentiate from our other brands. Go for natural patina rather than bright painted backdrops.

Painted risers

Avoid using painted risers for Danica Studio to differentiate from other brands. Opt for other type of objects to lift products up, like books or more vintage style blocks and crates.
Additional Brand Assets
Danica Resources
Additional Brand Assets
Danica Resources