We strive to be The Company You Keep by providing design, product and service with integrity.
Danica is a market leader in houseware, giftware, and home furnishing design. With five distinct brands under the Danica umbrella, we offer an engaging and dynamic range of products. Family-owned with a global reach, we've evolved from our roots as a source of classic kitchen textiles in North America in the 1960s.
Danica's dedication to providing designs, products, and service with integrity continues to be evident in everything we do. From our bustling headquarters in Vancouver, Canada to our manufacturing partners overseas, and our retail customers everywhere, we are passionate about our community and committed to reducing our environmental footprint while making a positive impact.
Our in-house team of designers and product developers draw from their extensive and diverse backgrounds to create the unique collections in each of our brands. The vitality and charm of our designs are brought to life in our photography, often featuring our Danica family (and their pets!) as models. Expertise in trend research, illustration and product development can be seen in everything we create, resulting in outstanding brands destined for shops and homes where design and quality inspire the art of living well.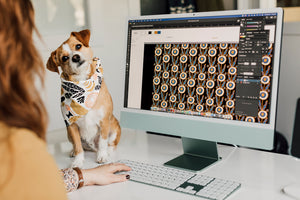 Inspired by the art of living well
Inspired by the art of living well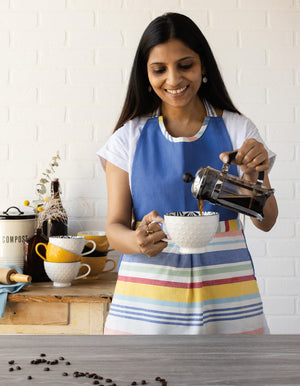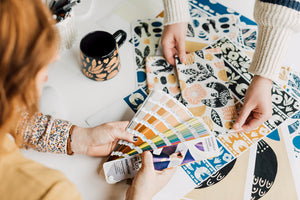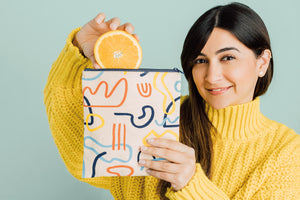 Danica creates modern home and living decor products that deliver color, pattern, and thoughtful design. Brimming with vitality, each collection is composed with quality, function and joy top of mind.
Danica
Brand Guidelines
Logo

The Danica logo and tagline comes in a few brand color variations. The logo can also be used on its own.

Minimum application size:
Logo – 0.5" wide
Logo & Tagline – 1" wide

Brand Colors

Forest Green: Hex #3F6F60
Sunshine Yellow: Hex #FFD857
Grass Green: Hex #28AD73

Accent Colors

Blue: Hex #659ABI
Teal: Hex #78C9CD
Orange: Hex #006e74

Fonts

Darwin: Display font
Kerning: Optical · Uppercase tracking: 50-75

Cabrito: Display & Body font
Use Normal weights · Set in all lower case for display type

Motherline: Accent Script
Set in all lower case. · Use ligatures sparingly
Use your Danica Resources credentials to access further branding resources.
Patterns

These three brand patterns can be used in the brand soft black
or at 20-30% opacity or in C0 M0 Y0 K20-30.
Preferred scales: 100% or 200%.

Stand Alone Tagline

The tagline can be used as a separate graphic, available in a few variations.

Minimum application size: 0.75" wide

Document Templates

To download logos, document templates and other brand resources, navigate to this server directory:
Data > Danica General > Brand Resources
Additional Brand Resources
Danica Resources
Additional Brand Resources
Danica Resources